Alexandros Kostopoulos
Research Interests
Network Economics and Pricing
Adoption of new Internet Architectures
Mobile and Wireless Networks
Cloud Computing and Virtualization
Studies
Publications
Journals & Books
M. Katsarakis, G. Fortetsanakis, P. Charonyktakis, A. Kostopoulos, M. Papadopouli , On User-centric Tools for QoE-based Recommendation and Real-time Analysis of Large-scale Markets , IEEE Communications Magazine, vol. 52, no. 9 , September 2014 , [pdf]
N. Fotiou, D. Trossen, G. Marias, A. Kostopoulos, G. Polyzos , Enhancing Information Lookup Privacy through Homomorphic Encryption , Security and Communication Networks, Wiley , December 2014 , [pdf]
B. Tagger, D. Trossen, A. Kostopoulos, S. Porter, G. Parisis , Realising an Application Environment for Information-centric Networking , Computer Networks, Special Issue in Information Centric Networking, vol. 57, issue 16, pp. 3249-3266, Elsevier , November 2013 , [pdf]
A. Kostopoulos, I. Papafili, C. Kalogiros, T. Levä, N. Zhang, D. Trossen , A Tussle Analysis for Information-centric Networking architectures , In F. Αlvarez et al. (Eds.): Future Internet – From Technological Promises to Reality, FIA 2012, LNCS 7281, pp. 6-17 , May 2012 , [pdf]
D. Trossen, A. Kostopoulos , Techno-Economic Aspects of Information-Centric Networking , Journal of Information Policy, vol. 2, pp. 26-50 , 2012 , [pdf]
P. Eardley, M. Kanakakis, A. Kostopoulos, T. Levä, K. Richardson, H. Warma , Deployment and Adoption of Future Internet Protocols , In J. Dominigue et al. (Eds.): The Future Internet: Achievements and Technological Promises, LNCS, vol. 6656, pp. 133-144, Springer , May 2011 , [pdf]
H. Warma, T. Levä, H. Tripp, A. Ford, A. Kostopoulos , Dynamics of Communication Protocol Diffusion: the Case of Multipath TCP , NETNOMICS: Economic Research and Electronic Networking, vol. 12, issue: 2, pp. 133-159, Springer , November 2011 , [pdf]
T. Levä, H. Warma, A. Ford, A. Kostopoulos, B. Heinrich,R. Widera, P. Eardley , Business Aspects of Multipath TCP Adoption , In G. Tselentis et al. (Eds.): Towards the Future Internet: Emerging Trends from European Research, pp. 21-30, IOS Press , April 2010 , [pdf]
M. Aldossary, K. Djemame, I. Alzamil, A. Kostopoulos, A. Dimakis, E. Agiatzidou , Energy-aware Cost Prediction and Pricing of Virtual Machines in Cloud Computing Environments , Future Generation Computer Systems, vol. 4532, Elsevier , 2019
Conferences & Workshops
Research Projects Participation
5G-PPP
WIRELESS NETWORKS
FUTURE INTERNET ARCHITECTURES
CLOUD COMPUTING
ASCETiC: Adapting Service lifeCycle towards EfficienT Clouds. FP7-ICT. URL: http://www.ascetic-project.eu. 
DIOGENES: ClouD for medΙa-aware real-time applicatiOns and services in HeteroGEneous NEtworkS. GSRT Bilateral Research Project between Greece – Israel. URL: http://diogenes.eap.gr (with OTE).
SMART GRIDS
WiseGrid: Wide scale demonstration of Integrated Solutions and business models for European Smart Grid. H2020-LCE-SGS. URL: https://www.wisegrid.eu.
PRIVACY AND SECURITY
YAKSHA: Cybersecurity Awareness and Knowledge Systemic High-level Application. H2020-ICT, IA, H2020-ICT, EU-ASEAN (South East Asian Nations) Cooperation (with OTE).
Privacy Flag: Enabling Crowd-sourcing based privacy protection for smartphone applications, websites and Internet of Things deployments. H2020-DS, IA. URL: http://www.privacyflag.eu (with OTE).
Credential: Secure Cloud Identity Wallet. H2020-DS, IA. URL: http://www.credential.eu (with OTE).
Professional experience
Hellenic Telecommunications Organization (OTE) S.A. Research & Development & Laboratories and New Technologies Department, Technology Strategy & Core Network Division, Fixed & Mobile. Research Engineer.
ΟΤΕplus – Technical and Business Solutions (member of OTE Group). Technology General Division. Consultant in Information and Communications Technologies (ICT) projects.
Institute of Computer Science, Foundation for Research and Technology – Hellas (FORTH). Telecommunications and Networks Laboratory, Mobile Computing Activity (head Prof. M. Papadopouli). Post-Doctoral Researcher.
Athens University of Economics and Business, Department of Informatics. Network Economics and Services Research Group (head Prof. C. Courcoubetis) & Mobile Multimedia Laboratory (head Prof. G. Polyzos). Research Associate.
IT Support Center, Hellenic Army. Division of Research and Informatics. Network and Systems Engineer.
Athens University of Economics and Business. Laboratory administrator.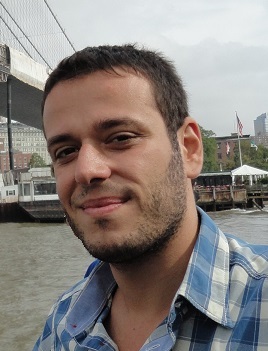 Contact Info
alexkosto@aueb.gr